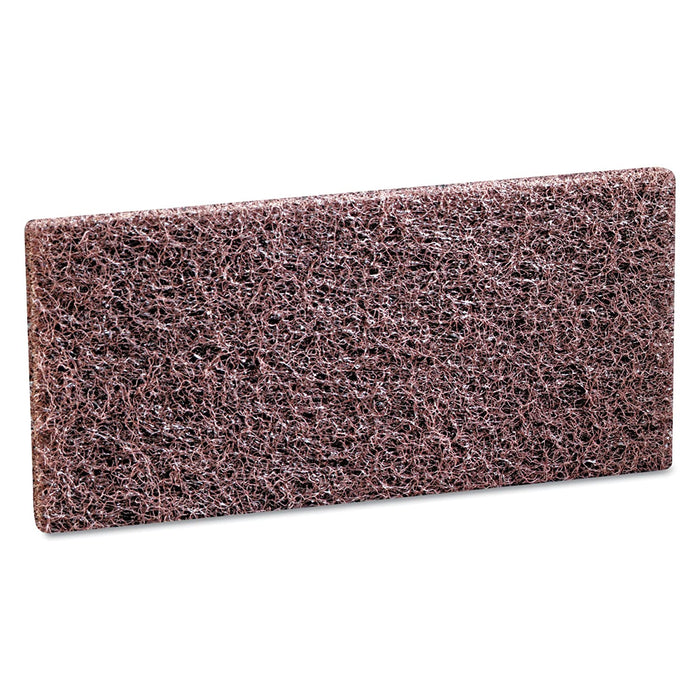 3M™ Doodlebug™ Brown Scrub 'n Strip Pad 8541 - 11" x 5" x 1"
Sale
Sale
Original price
$2.73
-
Original price
$2.73
Designed for tough jobs like removing finish and wax buildup from baseboards and floor edges. A great way to strip stairs. Fits 3M Doodlebug Pad Holder 6472 or 3M Doodlebug Handblock Pad Holder 6473. 
Product Overview
This product is a floor maintenance scrubbing pad made of polyester and nylon fibers in an open-web construction. Abrasive particles are dispersed throughout and bonded to the non-woven construction with a durable resin system that permeates the entire pad. The pads are nominally one inch thick and sized to fit standard swivel pad holder.
A heavy-duty utility pad for tough jobs including removing finish and wax from baseboards, floor edges and stairs.

Designed to fit on the 3M Doodlebug Pad Holder 6472 or 3M Doodlebug Hand block Pad Holder 6473.

Use wet or dry. Also, for use with water based floor finish stripping solution to remove old soiled floor finishes and sealers.

Can clean heavily soiled hard surface floors such as concrete when used with appropriate cleaning chemicals.

Rectangular shape allows stripping in hard-to-reach places like corners and stairwells.
Click here for Technical Data Sheet