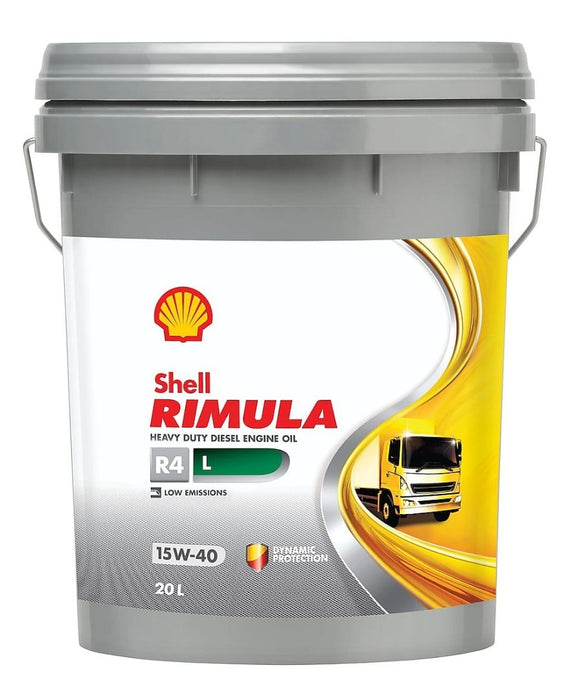 Shell Rimula R4L 15W-40
Sale
Sale
Original price
$95.21
-
Original price
$95.21
Shell Rimula R4 L uses the latest generation technology to deliver significantly improved resistance to wear, deposits and oxidation. 
Based on high performance Group II base oils, it is one of the most advanced 15W-40 oil technologies available – and suitable for virtually all vehicles. That means that it's versatile enough to bring you the convenience of a single oil, suitable for virtually all engine ages and vehicle types.
Low emissions and reduced costs
Protecting the performance of your exhaust emissions control systems is not only important to ensure that your vehicles comply with legislative requirements, but also to ensure efficient operations. For example, blocked diesel particulate filters (DPF) can actually increase fuel consumption. Shell Rimula R4 L is formulated with reduced levels of ash and sulphur to help maintain the efficiency of the latest and future vehicle technologies.
Specifications:
SAE viscosity grade: 15W-40 
API: CJ-4, CI-4+, CI-4, CH-4, CG-4, CF-4, CF; ACEA: E9, E7; Caterpillar: ECF-2, ECF-3; Cummins: CES 20081, 77, 72,71; Deutz: DQC III-10 LA; DDC: 93K218; IVECO: T2 E7 (Meets); MACK: EO-O Premium Plus; JASO DH-2, MAN: M3575; MB-Approval 228.31; MTU: Category 2.1; Renault Trucks: RLD-3, Volvo: VDS-4, VDS-3
The product specifications listed above may vary from time to time and may not all be available for sale in your specific country. To obtain a specific recommendation for your vehicle from our product portfolio, please use our free online oil recommendation tool, Shell Lubematch