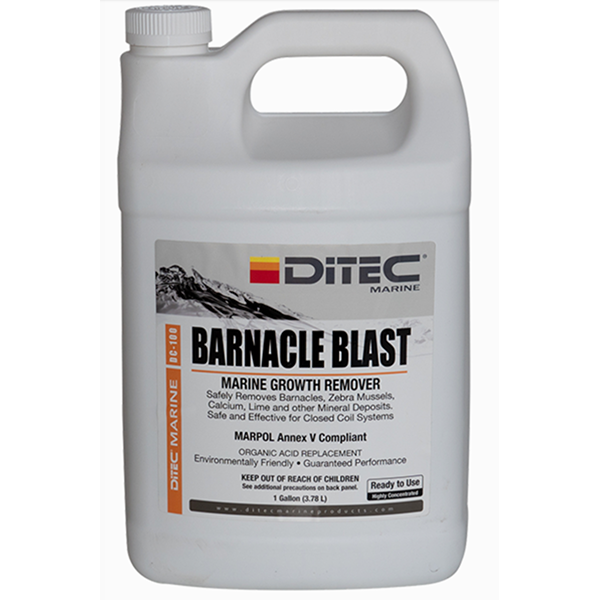 DITEC Marine - Barnacle Blast - Hull and Bottom Cleaner
Sale
Sale
Original price
$62.50
-
Original price
$62.50
BARNACLE BLAST is safe and non-toxic. It is specifically formulated as a fast, effective and environmental alternative for removing marine growth and mineral deposits. It is very effective for cleaning closed coil systems.
Suggested Dilution Directions
DC-100 BARNACLE BLAST can be used in concentrated or diluted form, depending on the need for maintenance and cleaning need. Apply DC-100 BARNACLE BLAST on surface to be cleaned. Allow it to affect the surface for 30 seconds to 5 minutes. Brush the surface as necessary. Rinse with clean water.
Usage Directions
Paint
Fiberglass
Gelcoat
Plastic
Rubber
Closed Coil Systems
Performance
BARNACLE BLAST offers exceptional performance
3 times more effective than phosphoric acid
4-10 times more effective than citric and glycolic acid
Not DOT regulated; offers lower transportation cost
Ideal to be used in concentrate or diluted
Not corrosive to skin and clothing
Environment
MARPOL Annex III and Annex V Compliant
NPDES Compliant
REACH Compliant
Excellent aquatic toxicity profile
Readily Biodegradable
No VOC's
Non-fuming
Non-Corrosive to skin
Non-corrosive to mild steel
Click Here for Safety Data Sheet