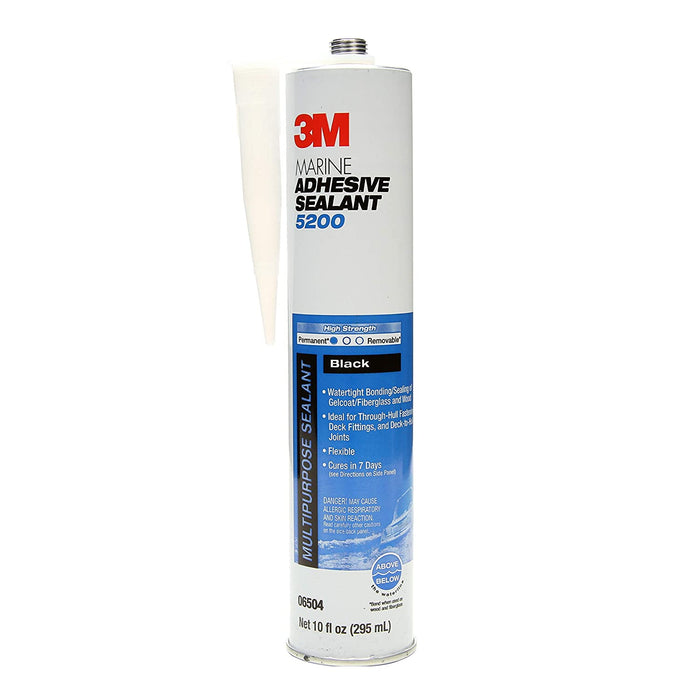 3M™ Marine Adhesive 5200 - Permanent Bonding and Sealing for Boat - White
Sale
Sale
Original price
$17.50
-
Original price
$17.50
Tough and Flexible to Form Strong Bonds
Forming watertight seals, 
offers permanent adhesion to wood, gelcoat and fiberglass. In addition, our marine adhesive sealant is flexible and allows for structural movement and dissipation of stress that may be caused by vibration, swelling, shrinking or shock. Available in both cartridge and sausage packs to meet your application requirements.
Permanent bonding – above and below the waterline
Industry standard for over 50 years
Offers extended working time
Achieves handling strength in 48 hours
Tough and flexible polyurethane polymer forms strong bonds
Capable of retaining strong bonds during vibration, swelling, shrinking or shock
3M™ Marine Adhesive Sealant 5200 is a one-component, high-strength, moisture-curing, gap-filling polyurethane for permanent bonding of wood, gelcoat and fiberglass. It cures to form a firm, rubbery, waterproof seal on joints and boat hardware, above and below the waterline. This product has been trusted throughout the marine industry for over 50 years.
Understanding Polyurethane Sealants
Polyurethane sealants provide strong, flexible durable elastomeric bonds that seal against the elements. These sealants excel in challenging industrial, transportation and construction applications. Polyurethane sealants are available in a wide variety of Shore A hardness, open time and colors to meet many application needs. Choose a 3M Manual or PneumaticApplicator for dispensing 3M adhesives sealant cartridges and 400ml/600ml sausage packs.
Click Here for Safety Data Sheet
Click Here for Product Brochure